Construction Partner™
Complete Construction Software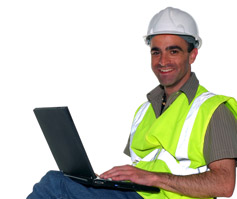 If you've checked out other construction accounting packages, you know that getting all of the construction-specific functionality you need at an affordable price sounds too good to be true.
But that's exactly what Construction Partner delivers – plus, we'll install it and train you how to use it. You'll be up and running in days (instead of weeks or months).
You Get:
Job Costing - Maximize your profitability by controlling job costs. This module enables you to automatically track costs associated with labor, materials, equipment and more.
More about Job Costing
Certifed Payroll - Simplify your payroll processing by automating even your most complicated calculations. Includes support for government compliance regulations, union/prevailing wage requirements and workers' compensation.
More about Certified Payroll
Estimating - Simplify and automate your estimating process. Module includes time-saving takeoff tools and setup options. Easily import data from spreadsheets or other 3rd party tools.
More about Estimating
Accounts Payable - Use one screen to add all your bills. Whether you're billing jobs, subcontractors, materials, equipment or work/service orders, this module makes managing your cash flow easy.
More about Accounts Payable
Accounts Receivable - Automatically keep track of deadlines for contract billing. Include waivers and releases. Easily produce joint checks. This module actually makes billing fun!
More about Accounts Receivable
General Ledger - Gives you the freedom to provide financial statements whenever you need them. Bundle your financials with the Job Profit Summary (over/under billings), Aged Payables and Aged Receivables and you'll have a complete financial package to maintain a successful business.
More about General Ledger
Equipment Management - Keep track of your equipment. Enter costs directly for pieces of equipment. Charge equipment directly to jobs when entering payroll timecards. Print equipment lists to get the lowest insurance rates. Schedule maintenance so your mechanics know what to do and when.
More about Equipment Management
Service Billing - Track costs on small jobs or work/service orders and makes sure the work gets billed.
More about Service Billing
Purchasing - Make sure you don't pay more than what you agreed. Generate purchase orders for job costs, inventory, office supplies and more. Fully integrated with Estimating and Job Costing, you'll know where you stand all the time.
More about Purchasing
Inventory - Control material inventories no matter where they're located. Fully integrated with all modules so you can keep track of what you have.
More about Inventory
Labor Compliance - Comply with reporting requirements for projects covered by the Federal Davis-Bacon Act or State Prevailing Wage laws. Includes print and online options. Upload your payroll data directly to LCPtracker.
More about Labor Compliance
Unlimited Number of Networked Users - We do not charge a per-user license fee. Having any number of networked users means that, as your company grows, your Construction Partner software grows with it.
Multi-Company Support - Whether you have one or more companies to manage, Construction Partner streamlines your accounting processes. Easily consolidate financial data and simplify management by leveraging Construction Partner's multi-company capabilities.
Data Conversion - Your financial data is valuable and we know it. We work closely with you to import and convert your existing data into Construction Partner. Imagine how much time you save by automatically importing customers, vendors, jobs, open balances, historical data and more. We do not charge an extra fee for data conversion.
Installation and Setup - We install and setup Construction Partner at your office. Expert installation saves you time and gets your system setup right the first time. We do not charge an extra fee for installation and setup.
Training - In addition to installation and setup, we provide training to ensure a quick, successful changeover to Construction Partner. Our live, interactive online training lets you work one on one with an instructor at your own pace on your own schedule. Free training is available for ninety days after your purchase.You'll be up and running in just a few days.
More about Training
Technical Support – At Construction Partner, support begins the first time you contact us. We listen to your needs, answer your questions and solve your problems while providing a level of service rarely found in today's marketplace. Your first 90 days of Technical Support is included with your purchase.
Annual Updates for Just $395 - Construction Partner is regularly updated to keep pace with your changing business needs. Although many construction software companies charge thousands of dollars for annual maintenance, regular updates of Construction Partner are just $395 per year! Your first 90 days of maintenance are free.
Powerful Software Anyone Can Use at an Affordable Price
Don't waste another day managing your construction company using spreadsheets, QuickBooks® or software that just doesn't meet your needs.