Construction Labor Compliance Software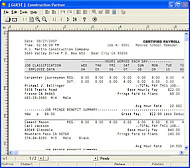 For contractors or subcontractors working on public works projects covered by the Federal Davis-Bacon Act or State Prevailing Wage Laws, fulfilling labor compliance reporting requirements can be a time-consuming yet unavoidable chore.
Construction Partner has built-in Labor Compliance features that make reporting easy and accurate. Minimize the time and effort needed to produce compliance documents – and avoid errors in the process. A wide range of both print and online reporting options are supported to give you the flexibility you need to stay in compliance.
Construction Labor Compliance Features
Automatically Create All Required Compliance Reports - Saves valuable time
LCPtracker Online Reporting Options - Support for LCPtracker, an online labor compliance reporting system used by over 200 agencies and 7,500 contractors, enables you to submit certified compliance reports through a Web interface, which eliminates the need to enter any data twice and gets you paid faster
Federal Forms - Automatically generates Department of Labor Form WH-347 Payroll Certification, Form WH-348 Statement of Compliance and Statement of Non-Performance and EEOC (Equal Employment Opportunity Commission) forms
Print Statement of Compliance Form - Support by job includes standard formats (Department of Labor) and custom formats
Online Support for Most Certified Payroll Systems - Automates the data collection and reporting process
Integration – Tight integration with the Service Billing/ Work Order and Job Costing modules eliminates duplicate data entry and ensures reporting accuracy
Generate Payroll and Reporting from the Same Data - Print reports for any current or previous payroll period or for one or more jobs
Continuously Enhanced with New Formats - If you don't see the option you need, we'll work with you to stay in compliance
Click here to schedule a 1-on-1 demo of Construction Partner's Construction Labor Compliance features.