Construction Service Billing Software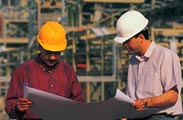 Trying to find an easy way to track costs on small jobs or work/service orders and make sure the work gets billed? Construction Partner's Service Billing module makes it easy.
As Payroll timecards and vendor invoices are entered, all associated work order information is entered at the same time. Then, billing customers couldn't be easier. The Service Billing module automatically finds work details, adds mark-ups and/or billing rates then prints the customer invoice.
Construction Service Billing Features
Create Work Orders From One Screen - Saves you time and clicks. Print them right away or save for later. There's even plenty of room to add notes to aid service technicians.
Easily Setup Multiple Work Sites - Work sites and customers can be setup dynamically during work-order creation. No need to change screens.
Create Recurring Work Orders - Setup once, use again and again.
Setup Pre-defined Service-code Descriptions - Speeds up the creation of work orders.
Flexibility to Keep or Remove Billing and Cost-transaction History - You decide how much to keep.
Automatic Markup using Cost-plus Method of Invoicing Work Orders on Nine Pre-defined Service Cost Types - Easily select and override of marked-up costs.
Assign Different Billing Rates to Selected Customers - Gives you more control over billing.
Display of Work-order Status Shows Schedules, Costs and Billings To-date - See what's going on at any time.
Service Billing is completely integrated with Accounts Receivable and all other accounting modules - Integration increases accuracy and saves time.
Click here to schedule a 1-on-1 demo of Construction Partner's Service Billing features.